Next day we woke up early in the morning, had some tea and apples, while waiting for the truck Ismail tried to arrange.
Some time passed and no cars arrived, so we decided to catch the train instead, from the train station in Qaraqalpakstan (some 25km south), or hitch a lift on the way. Before we left we promised Ismail that we would come to visit him in Urgench.
We went to say goodbye to Venera and her husband, but were not allowed to leave without coffee and breakfast.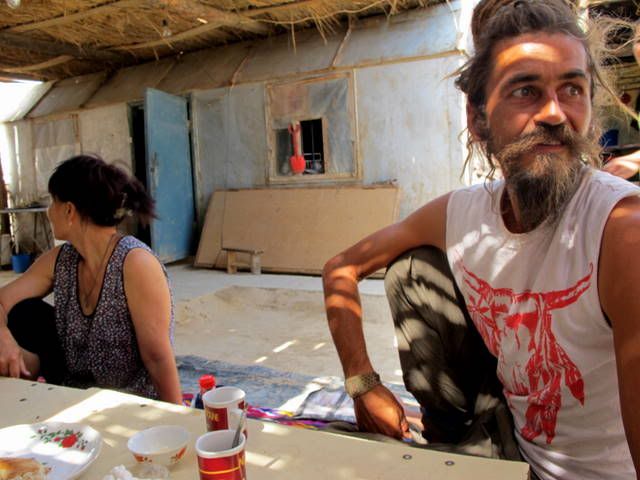 We already missed the morning train, but they told us there would be another one in the evening, Tajikistan train going to Dushanbe. So if no trucks would stop us we still had an option to jump on the train.
She also told us we should be careful with water and food in this area, because the products were not fresh here in the desert. They gave us water and a contact for a friend in Nukus who might be able to help us with our broken trailer and then wished us good luck on our journey.

Above: from left Venera and her husband
On the way we saw convoy of French camper cars going to Beijing. All the people were taking pictures of us, but when we approached them to ask for help, they ignored us and pretended that we were not there.
We reached the check point where was also the crossroad with the train station and parked our bikes by chaikhana. We tried to stop some trucks, but didn't have much luck. All of them where full.
The day passed by and it was time to catch the train before we missed it again.
We couldn't buy the train tickets for Tajikistan train, but were told they might take us if there would be space.And there was.
The conductors were very nice; they loaded our bikes in the cargo compartment, showed us the way to our coupe and didn't want to charge us for the ticket till Kongrat, which was some 400 hundred km to the south. They even gave us tea and told us if there is anything else we need, we should just call them. We were their guests.
We were lying on the bed in our private coupe, drinking tea and thinking what was happening to us, while slowly drifting into the dream world.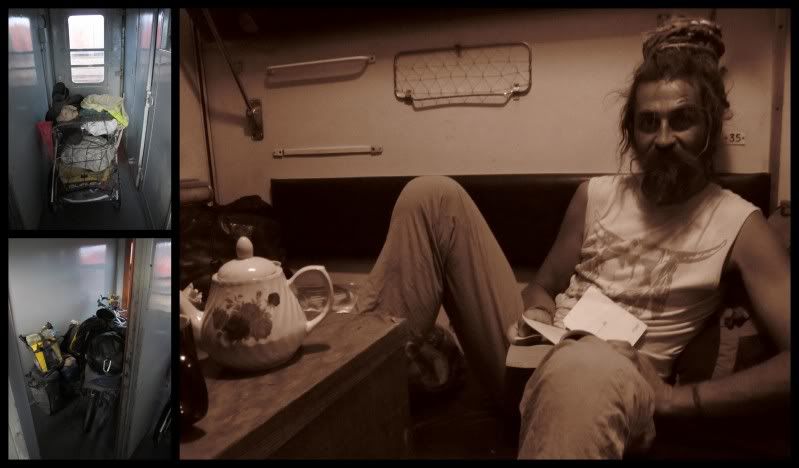 We arrived to Kongrad very early in the morning. It was raining and the air was fresh and cool, a nice change after a long desert heat.
We changed the train and fall asleep and when we woke up we were nicely surprised, the train was full of people. Walking, talking, sitting, selling,…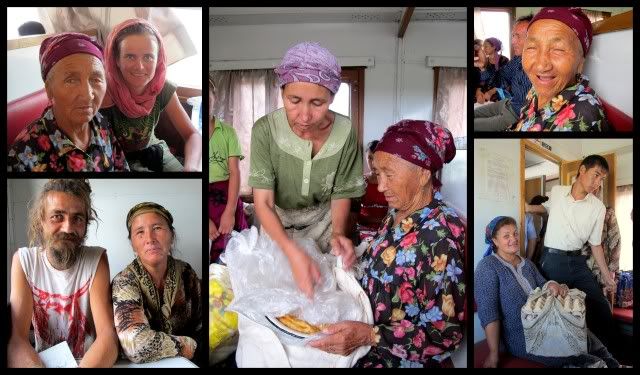 It was refreshing to be with local people again. The only people we met in the desert were truck drivers or people working in chaikhana. And now we were back in civilization.
When we arrived to Nukus, we were very tired and the only thing we wanted was a nice hot shower and a good rest. We had no idea that it will be a difficult mission.
The first hotel didn't want to accommodate us, because they didn't have the license. The second one was full of French people with the camping cars we met on the road the day before. So we had to go to the third one which was also full, but they had a nice yurt in the garden, which was our new home for the next few days. We had a nice hot shower and a good nap till the evening.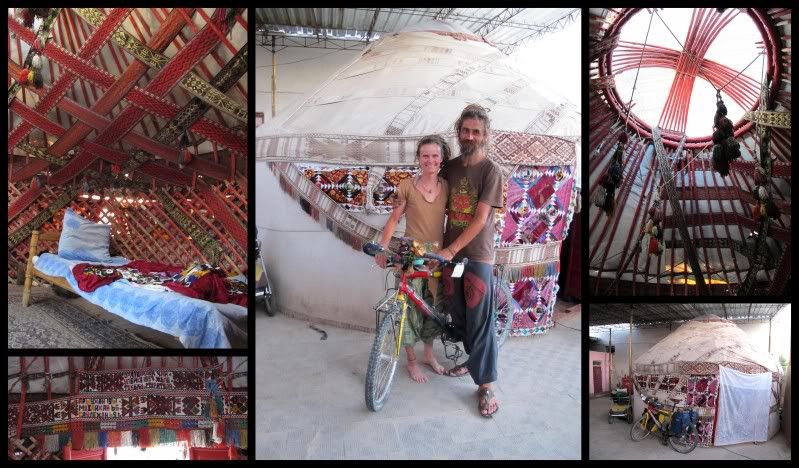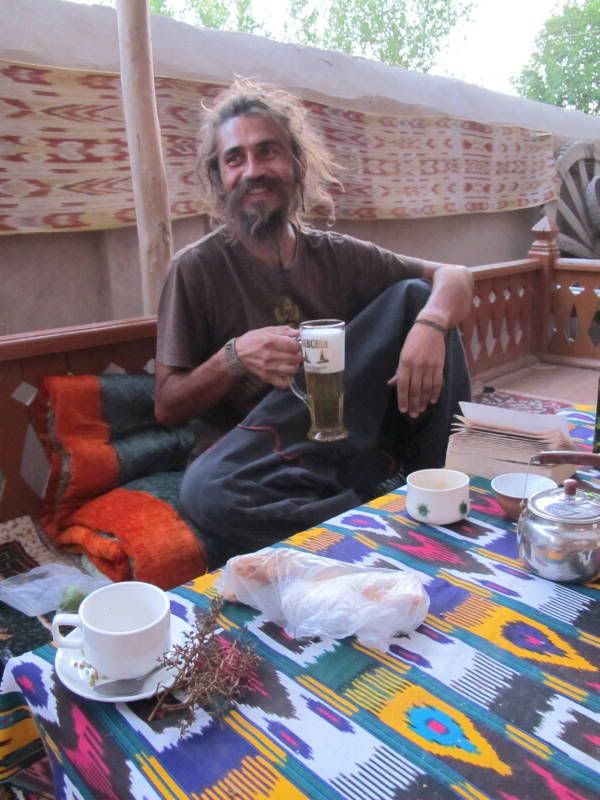 We had a nice conversation with an older French couple. They loved Uzbekistan and it was their third visit here. They were telling us their stories and were very interested in our cycling adventures. When they learned that we support our cycling with the handmade jewelry we make, they asked us to show them what we do.
While showing them our creations more people came and talked to us, they were so excited that we cycled all the way from Europe and were on the road for more than 2 years; most of them had only 2 weeks holidays. We sold a necklace and went back to sleep.
It was interesting to be surrounded with tourist and travelers again; except for our 2 friends (Chris and Roei) we haven't seen any since we entered Kazakhstan and this was quite a long time ago.
In the morning we called a friend of Venera and her husband who might be able to help us with our very broken trailer and arranged to meet him at our hotel in the afternoon.
We had a lot of time to explore Nukus, a typical Russian city with no city center but a beautiful, colorful market with lots of different fruits and vegetables, we were dreaming of when in the desert.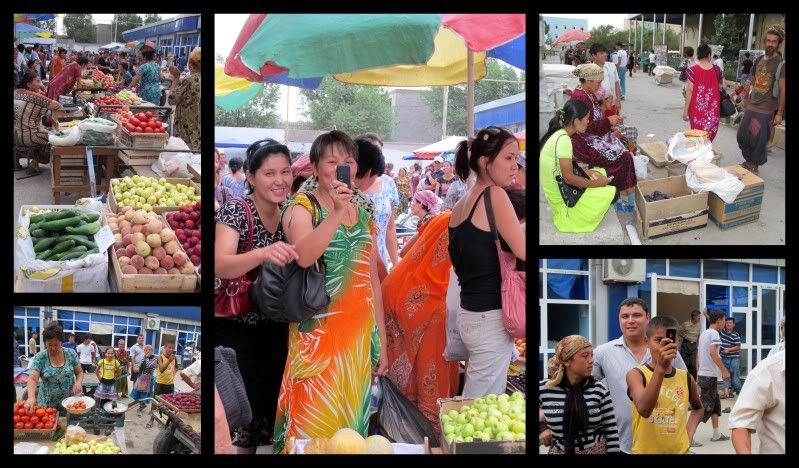 So we bought lots of apricots, pears, grapes, nuts and other vegetables and made our way back to meet the guy. He was an older men who loved bicycles and repaired them for his hobby. He looked at our trailer and told us to meet him the next morning near the train station where he had his workshop.
It was a Burley Nomads day. In the morning we went with Chris which was already in Nukus to meet the man. He was waiting for us near the train station and we followed him to his workshop which was in his garage, not far from the station.
We took Burley apart and looked what what was wrong. It was broken in few parts and I was afraid it would be hard to repair because there was no argon (for welding aluminum). But the man said it's no problem. It was lunch time so we decided to meet him again in the evening.
With a help of his friends he repaired our Burly . We were so happy, we were free again.
We asked for the price, but he didn't want to charge us. He said it's his hobby and he is happy whenever he can repair something.
We were so grateful and we wanted to give him something anyway, he spent all day repairing our trailer. We gave him some money we get for the necklace I sold the night before. He was a great man with a big smile.

We had a good rest and were more than ready for the road. The Kyzylkum desert was stretching in front of us and we were happy to be free not depending on the cars and trains again, so we could just sit on our bikes and pedal into the unknown. And so we did. We left Nukus early in the morning thinking that Chris and Roei are already in front of us.
We had strong head winds this day so it was hard to pedal. We were moving very slowly leaving Nukus oasis and entering the desert with sand dunes rising from both sides. It was very beautiful and different from the desert before.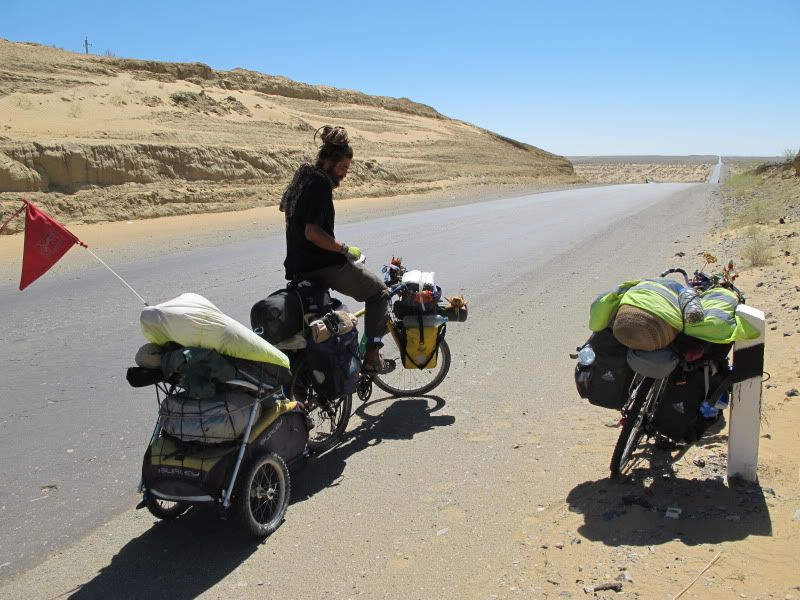 Some 40km after Nukus the road comes very close to Tajikistan border and Amu Darya River. The view was very magical. On the right side of the road was endless desert and on the left side was oasis of green, almost unreal.
In small village called Bestham we stopped for lunch and had a few hours siesta, during the crazy heat. We looked for Chris and Roei but they were not there, so we knew they left Nukus after us.
It was only around 6 pm. when the heat was not as strong and we were ready to continue towards Khiva. We left the main road and crazy drivers and turn right towards the river.
It was a beautiful small road with hardly any traffic; we crossed the river, passing local villages and rice paddies. It was funny to be so close to the desert standing in the middle of rice fields surrounded with sunflowers and apricot trees.
We entered a new province called Khorezem. We heard about it from our friend Ismail in a caikhana near the border.
We had a very beautiful sunset, but no place to put our tent. The area is a big labyrinth of canals and rice fields full of mosquitoes and no place for wild camping.
We saw a big house and went to ask if we could pitch a tent on them land. The people were very nice. They gave us dinner (rice and garlic) and made a bed on the porch in front of a big green rice field.
We made more than 90km that day, with a strong face wind in the first part of the journey. We were tired but very happy, laying in our bed inside mosquito net, listening to a beautiful frog songs while drifting to sleep.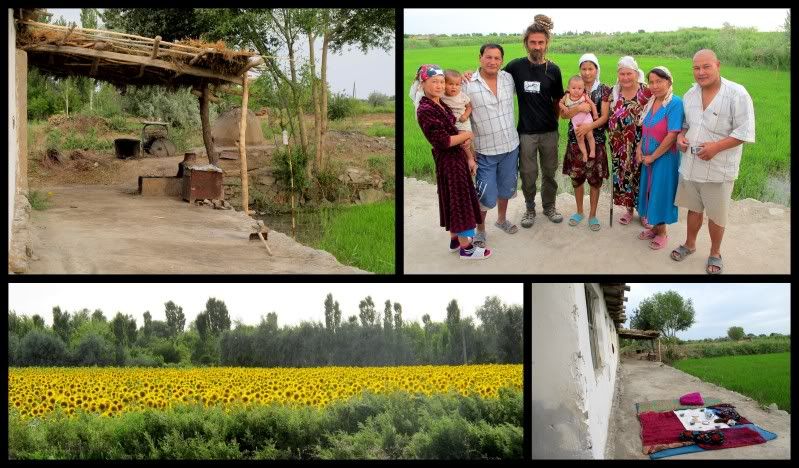 We woke up before sunrise and had breakfast with our beautiful family. They gave us a bag full of organic garlic for the road and wished us good luck on our journey.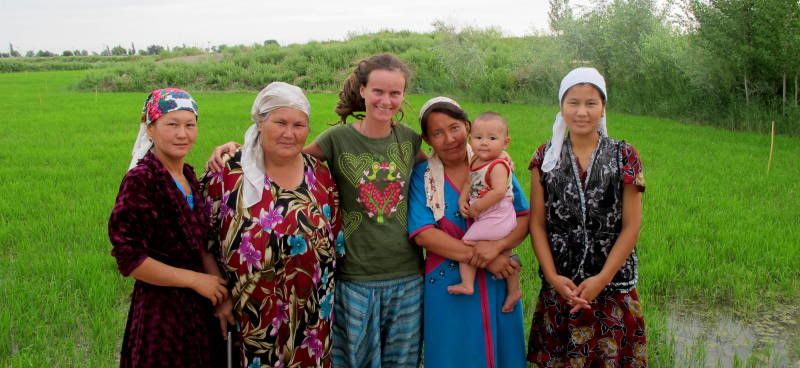 We had another 90km to reach Khiva. It was a beautiful day with a nice breeze. We were passing (Gurlan, Shavat, Qoshkopir) stopping in the shade of apricot trees full of delicious, juicy fruits. We were in paradise. Villagers were busy planting the rice while we cycled by.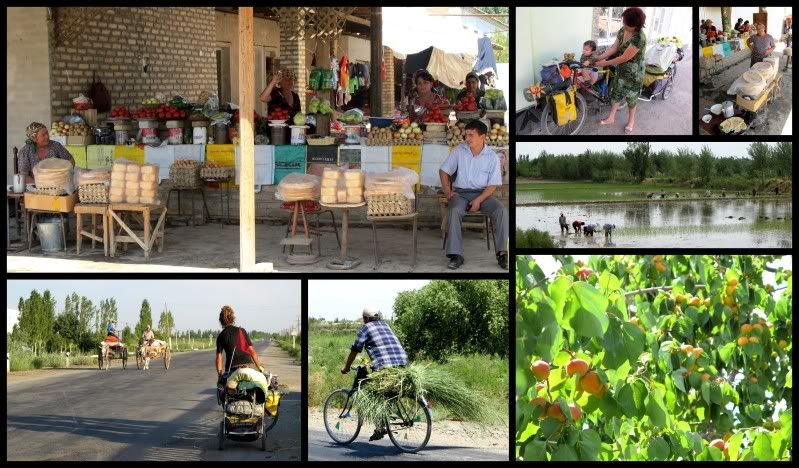 We reached magical Khiva with a beautiful sunset.