After a few days of delaying our departure from Bangkok we were finally ready and very excited to start cycling again. We decided to take a train out of Bangkok because of the big flooding. So we only had to come to the train station.
We had our little adventure before we even started hihih…Our first stop was the post office.  I didn't know if I should wait or just leave because there were so many people and we didn't really have that much time, but as the line was moving fast, I decided to stay and post the parcels.  (I had to send a necklace to Clark and another one to Zuzka). I came out at 11:50 which was the time we already wanted to be at the train station; instead we were still very far, close to Chatuchak market on the other side of Bangkok.
Because it was already late we didn't have time to stop in the Big C supermarket where we wanted to buy few more things. The road was jammed with traffic so we turned left on our first crossing and cycled towards the rail tracks. The easiest way to the main train station was to follow the rail tracks towards the center where the main station is, a very simple task.
We turned into the street on the left side of the rails because it was almost empty and started following the rail trucks towards the station. It was nice as most of the way we were the only traffic on the road and other streets were jammed, so we were moving quite fast, until the road disappeared. It felt so different to be cycling fully packed instead of just walking the streets of Bkk like many other "farangs"- foreigners. The people were so happy to see us. They were smiling and greeting us with SABAY DEE when we were passing by. It felt like we just arrived to BKK not that we were leaving it.
We found ourselves on a big crossroad not very far from the train station, where we could only turn left or right across the rails. We crossed the rails and turned into a small street but unfortunately with a dead end. We had to turn back. Now I was in front, not seeing that Mirko had problems with the trailer. I continued to the crossroad which was now on our right side. I was stuck in traffic looking for Mirko but I couldn't see him. I was on the middle of a very busy rd. so I decided to wait for him after the crossing.
I stopped and waited while the traffic lights changed a few times, wandering what I should do. I thought, that possibly there was something wrong with the trailer but the second thought was, that he might just turned left instead and was already waiting for me on the train station.
So I started to cycle very fast in order to catch the train and I hoped that Mirko is really at the train station waiting for me. I got completely lost and didn't know where I was, where should I go, I suddenly found myself near Ratchatewi sky-train station going in the wrong direction. I had to ask few times for HUA LAMPONG (main train station). Tuk Tuk drivers and other people helped me find the place. I finally arrived to the station just 10 minutes before the departure of our train to Aranyaprathet (13:05).
I was looking for Mirko but couldn't find him, maybe because he was still stuck in the traffic. He arrived only 5 minutes before our departure. I quickly went to buy the tickets while he moved the bikes closer to the train. We were looking for the cargo compartments but there was none. So for a moment it looked like we will not make it after all . We didn't even know if we are allowed to put the bikes and the trailer on the train. We had only few minutes left and we had to take all the things off the bikes and board the train which was already full of people. Suddenly there were few people from the train helping us with all the bags and the bikes.  How cool.
Luckily we had everything on the train when it started moving. Even the conductors were nice and Mirko smiled. They charged us 100bat for each bike and they didn't charge for the trailer. Normally you have to pay 10bat for extra bags of luggage, so it would cost us much more.
Our bags were all over train, we had to find free places for them, so a bag was here and another there. We looked at each other and smiled, Mirko was bleeding from his nose, because he hit himself on the handholds while carrying the trailer to the train. We were really happy to be on the train. For a moment I was imagining, that we would have to stay one more night in BKK and catch a morning 5 am train. But we didn't need to do that. We were moving towards Aranyaprathet and Cambodian border.
The train was full. We had two seats but we let two older ladies have them. We were standing for the first 2 hours, and by then we were both secretly wishing that we haven't given up our places. So at one point we placed some plastic on the floor and rested. From the next station, where most of the people left the train, we could sit on the chairs again. We bought some unusual looking sweet potato with coconut and enjoyed this funny adventure.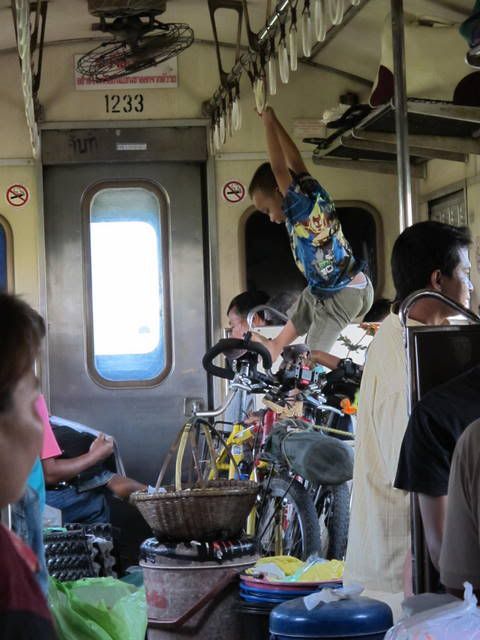 We were very happy to be on the train, because most of the roads were under water, in some places even more than half a meter. That would be very hard or even impossible to pass on the bikes. Sometimes it looked like we were driving through a lake, because the water was as high as the rails. I never saw anything like that.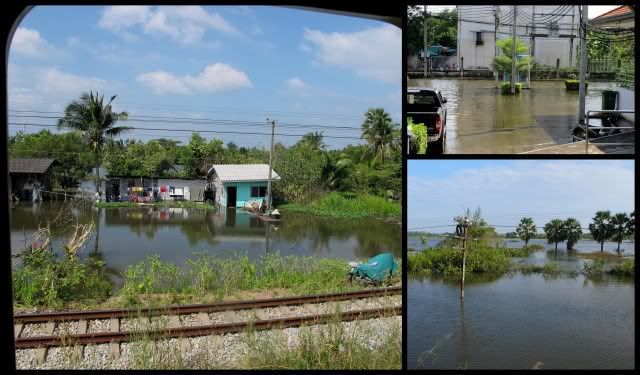 When we were out in the country side we could see areas where the rice paddies should be, instead there were small lakes all around and you could see only the roofs of the huts poking out of water.
It felt really good looking through the window with fresh air and lots of birds flying around enjoying the abundance of water. The sun was shining and it was beautiful. During most of our stay in BKK we had very cloudy skies, so this was a nice change.
I was chatting with 3 French ladies who helped us with the bikes. They told me they are thinking to skip Siem Reap, because apparently 3 days ago there was a massive flooding there too, and a friend of theirs, who lives there, had to move to a hotel because the water level raised so much.
So we should see what is there in front of us.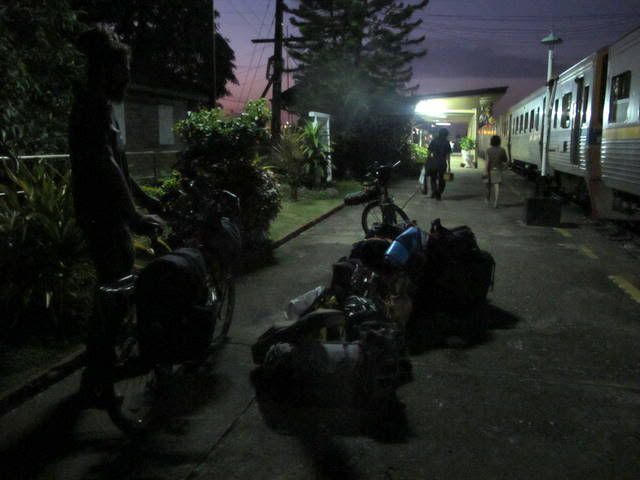 When we arrived to Aranyaprathet, it was already dark. We packed the bikes and went to find a place for the night.  After some searching we returned to the first place, but the price for the night was 350bat and the owner wouldn't go down even one bat. I guess there are lots of customers who come for only few hours so they didn't care if we stayed or not. We had a shower and went for the last Phad thai- fried rice noodles with vegetables and peanuts and were more than ready to stretch on the bed and drift into the dreamland.