This morning we woke up quite early (6.00am). The sky looked very cloudy and there was no sun, as Mirko predicted the evening before. But it was not raining, which was good.
While Mirko was out on his fruit mission for breakfast, I checked my email and the weather forecast for the day, which said we should have lots of rain during the day and  the evening will give us clear skies.
Mirko came back with lots of yummies for breakfast. He brought some tomatoes and cucumber, bananas and Chak Ang – banana covered with sticky rice, wrapped in a banana leaf and then grilled. The interesting thing is that after being grilled the banana becomes red so for a little while we were not sure if it is banana or not. It looked like some kind of sausage…hihihiih
For breakfast we had cold tea and chocolate oat biscuits. We ate some bananas and we each had  Chak Ang.
We went downstairs to pack the bikes, get the water and then we left. We went back to the crossroads and turned left, then we started cycling toward Kralanh, 50km away and Siam Reap, which was 100km away.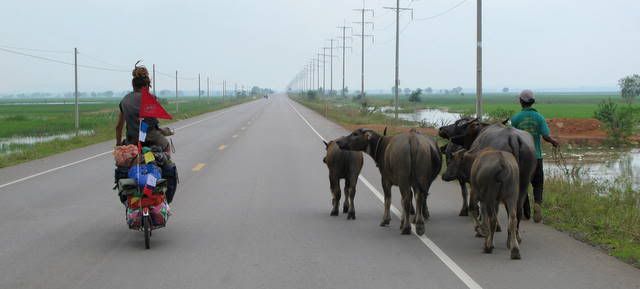 There was lots of water everywhere; in some places the rice paddies disappeared and became part of a big lake. In some areas people were living in provisory tents by the side of the road which was on a higher ground because they couldn't reach their flooded homes. But they seemed happy, greeting us with big smiles and hello-goodbyes.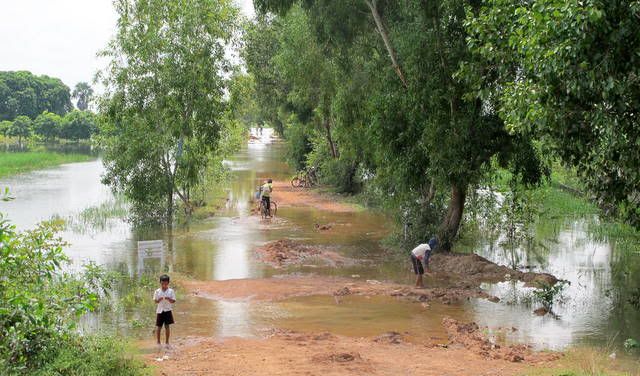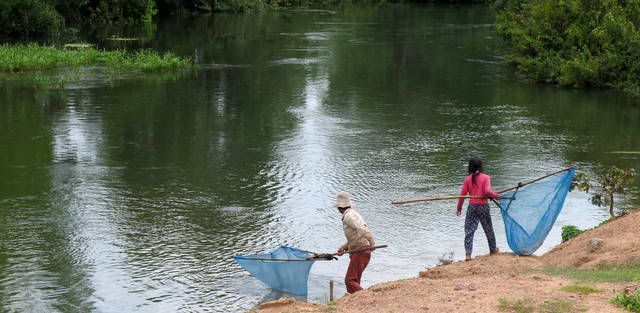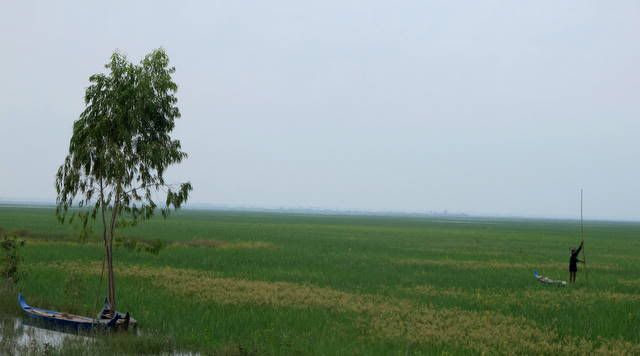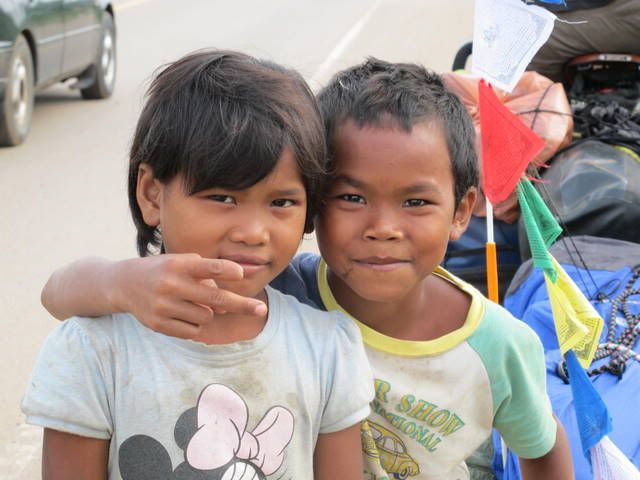 It was nice to be on the bike again, riding the long, flat stretch of the road going east. For a little while it looked like it would rain but soon it cleared and we could see some sun and blue skies again. 20km from Sisophon we had our first slight hill since we had entered Cambodia. On the top were lots of places where the people had carved stone statues of Buddhist symbols- dragons, elephants, etc.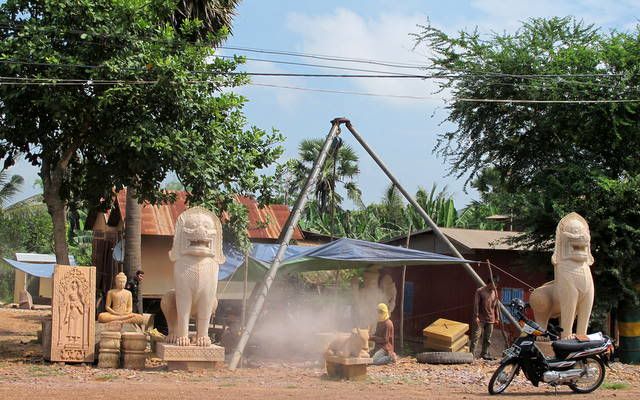 We stopped in a small noodle shop by the side of the road where a nice lady let us rest in her shop and gave us delicious green tea with ice. It was our first break after 25km and we were ready for a snack. We had a fresh baguette that Mirko bought in the market, smoked tofu that we had brought with us from Slovenia, olive oil, cucumbers and tomatoes. It was delicious.
We had a nice rest and were ready to continue with the journey. I put on Mirko's shirt with long sleeves because I was burned from the hot sun the day before and didn't want to get more sun on me. But then the weather changed and it was cloudy again.
In front of us we could see a big storm. The sky was very black and it looked like the storm was moving in our direction. We still had 15km to the town where we could hide from the rain, as many places we passed on the side of the road were flooded or were supposed to be rice fields but were lakes instead.
So we started to cycle faster, but the storm caught us 3 km before the town. It was a big heavy storm but luckily there was a nice spot where we could hide just before the torrential rain. It was a place where nuns were living. They gave us an orange and let us wait for the rain to stop. As soon as the heavy rain stopped we were back on the road trying to reach the town as fast as possible, because there was more rain on the way.
I arrived in the town and saw Mirko on the other side of the road. As soon as I reached him it started to rain again and it didn't look like it would stop any time soon. We hid the bikes under the roof and sat at a table, watching the life around us while waiting for the rain to stop. But instead the rain kept getting stronger and stronger, like somebody had cut open the clouds.
We were sitting in a small restaurant and there was a gas station on our left side just before the crossroad. This was also the only hotel in town and they charged $8 for a small room. We didn't wanted to take the room as it was only 3 pm, so there were still a few hours more we could ride, so we decided to wait.
After a while we decided to take the room anyway as it didn't look the rain would stop any time soon.